In the realm of men's fashion, one cannot deny the timeless appeal of a well-fitted formal shirt. While there are various styles and designs available, slim fit formal shirts have gained immense popularity among fashion-conscious men who strive to make a statement wherever they go. With their sleek and suave appearance, these shirts have become a staple in every modern men's wardrobe. In this blog, we will delve into the world of slim fit formal shirts and explore why they are the go-to choice for men who always step out in style.
The Appeal of Slim Fit Formal Shirts
Slim fit shirts are designed to follow the contours of your body without feeling restrictive. Unlike regular or loose fit shirts, they create a streamlined silhouette that accentuates your physique and exudes confidence. The sleekness of slim fit shirts adds a touch of sophistication to any outfit, making them ideal for formal occasions or professional settings.
Flattering for All Body Types
Contrary to popular belief, slim fit formal shirts are not limited to individuals with a specific body type. They can be worn by men of various shapes and sizes, provided the right measurements are chosen. Whether you are slim and lean or have a more athletic build, a well-fitted slim fit shirt can enhance your natural features and make you look effortlessly stylish.
Versatile Wardrobe Essential
Slim fit formal shirts are incredibly versatile, allowing you to create a wide range of stylish outfits. They can be paired with tailored trousers or dress pants for a classic formal look, or with dark denim jeans for a more casual yet refined ensemble. Slim fit shirts can also be layered under blazers, suits, or even sweaters during colder months, adding depth and elegance to your overall appearance.
When it comes to slim fit formal shirts, the choice of fabric and pattern plays a crucial role in defining your style. Crisp cotton and fine linen are popular fabric choices as they provide a clean and polished look. Additionally, various patterns like solid colors, subtle stripes, or small checks can be incorporated to add visual interest to your outfit, while still maintaining a refined and sophisticated appeal.
One of the key aspects of slim fit formal shirts is their attention to detail. From well-defined collars and cuffs to precisely tailored seams, these shirts are crafted with meticulous precision. This attention to detail not only ensures a comfortable fit but also adds a touch of luxury and elegance to your attire, allowing you to stand out from the crowd.
To achieve the ultimate slim fit look, it is crucial to get the right measurements and select the appropriate size. When purchasing a slim fit formal shirts, pay attention to the neck, chest, shoulder, and sleeve measurements. It is recommended to consult a professional tailor or refer to the brand's size guide to ensure a perfect fit that complements your body shape.
Classy Slim Fit Formal Shirts for Office & Business Meetings

Aqua Green Floral Slim Fit Formal Shirt
Enhance your professional wardrobe assortment with this timeless light green formal shirt featuring a classic floral print. Crafted from high-quality 100% pure cotton fabric, this shirt showcases a cutaway collar, cuff buttons, and long sleeves. Pair it effortlessly with slim-fit trousers and formal shoes to achieve an impressive and polished appearance.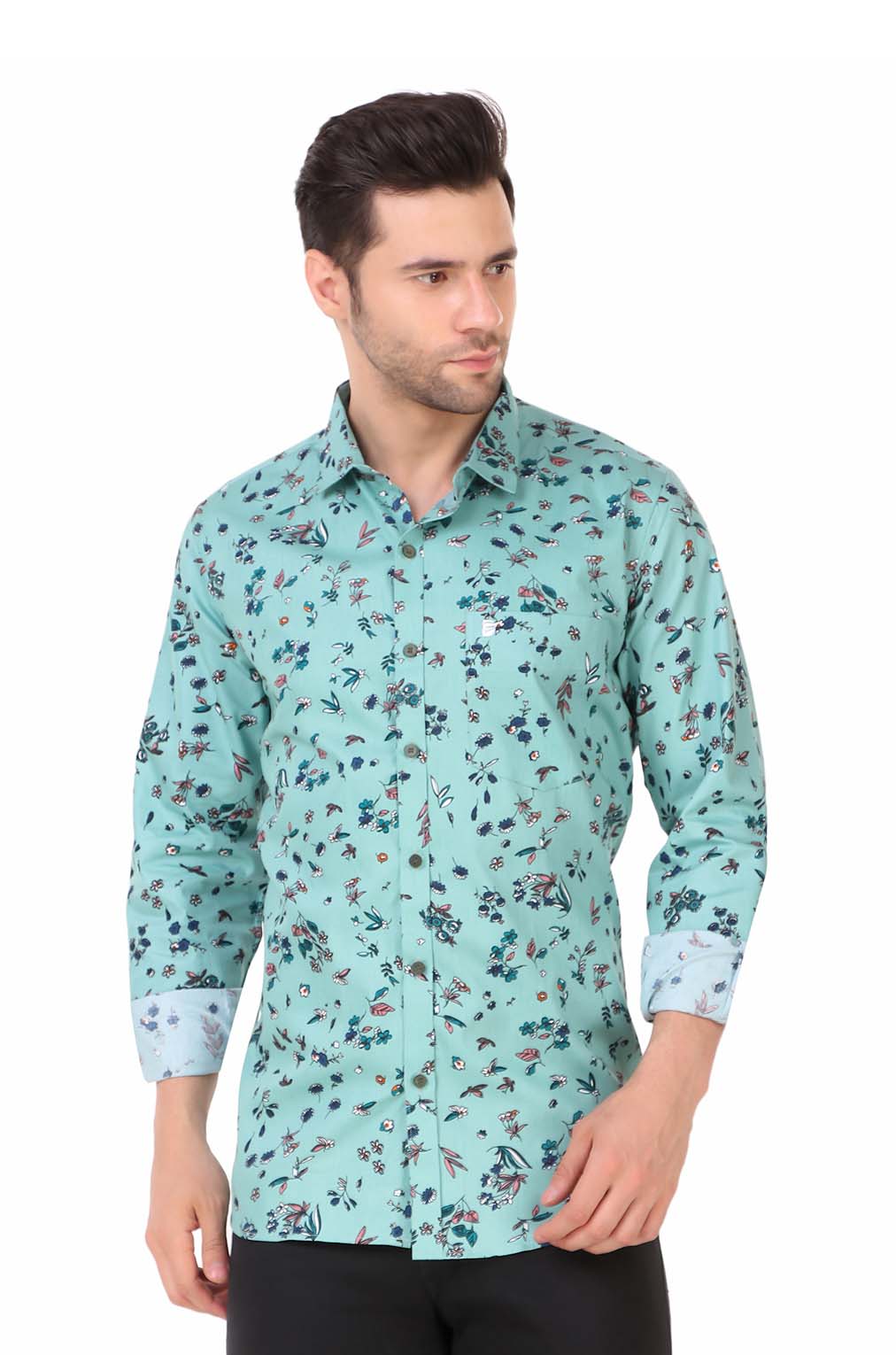 Black Printed Slim Fit Formal Shirt
Elevate your wardrobe with a touch of sophistication courtesy of this sleek black printed slim fit formal shirts. This dapper shirt boasts a stylish cutaway collar, long sleeves with cuff buttons, and a convenient chest pocket. Crafted from high-quality cotton fabrics, it ensures breathability and comfort during the summer season. For a fashion-forward ensemble, pair this shirt with tailored trousers and derby shoes, and embrace a truly trendy look.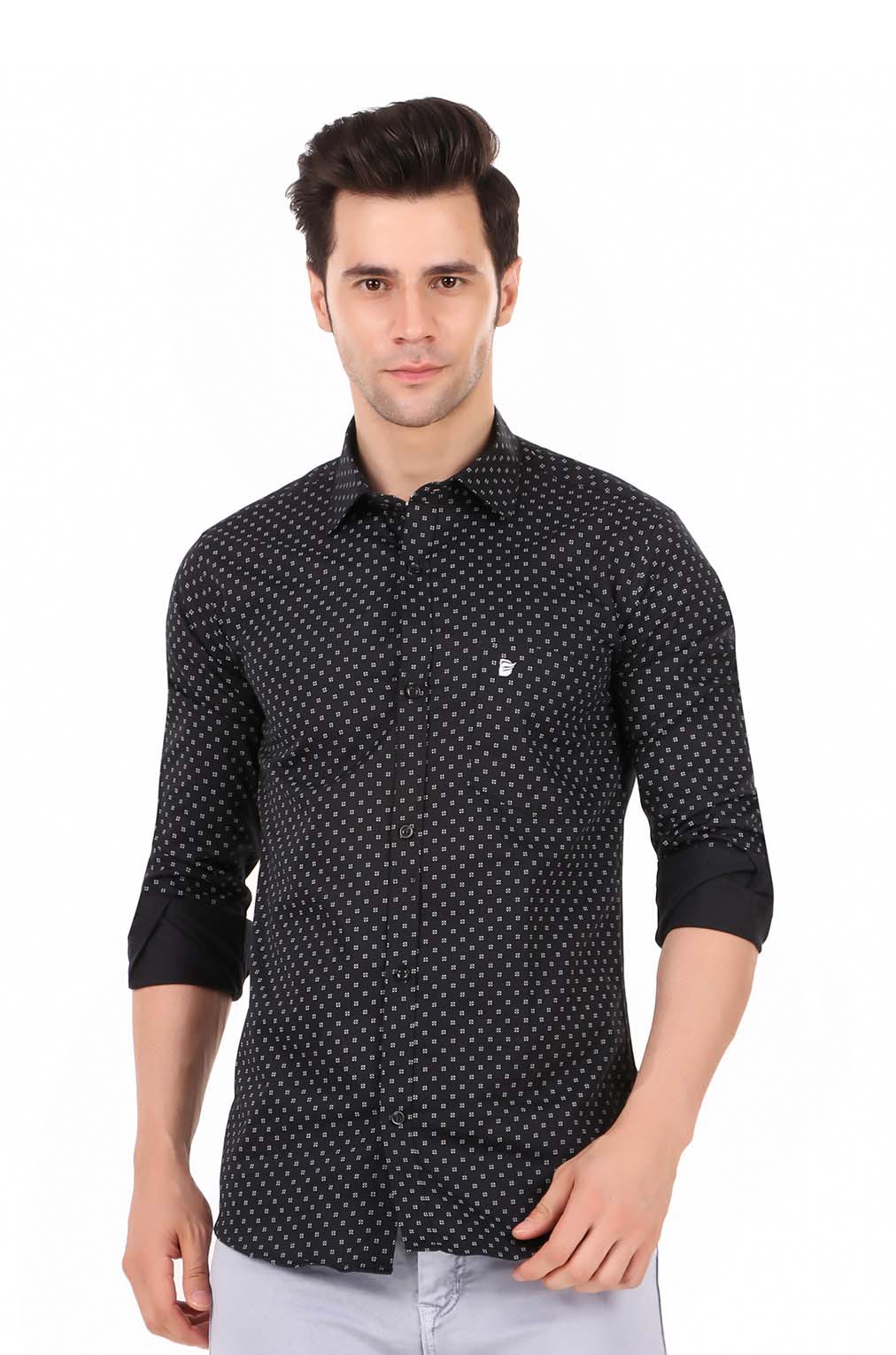 Blue Floral Slim Fit Formal Shirt
This exquisitely tailored shirt is sure to make you look effortlessly stylish. Its distinctive craftsmanship and meticulous design will elevate your appearance. Whether you choose to pair it with jeans or chinos, and lace-up shoes or loafers, this versatile shirt is perfect for your upcoming meetings or late evening get-togethers. Embrace a timeless and sophisticated look this season with this fashionable shirt.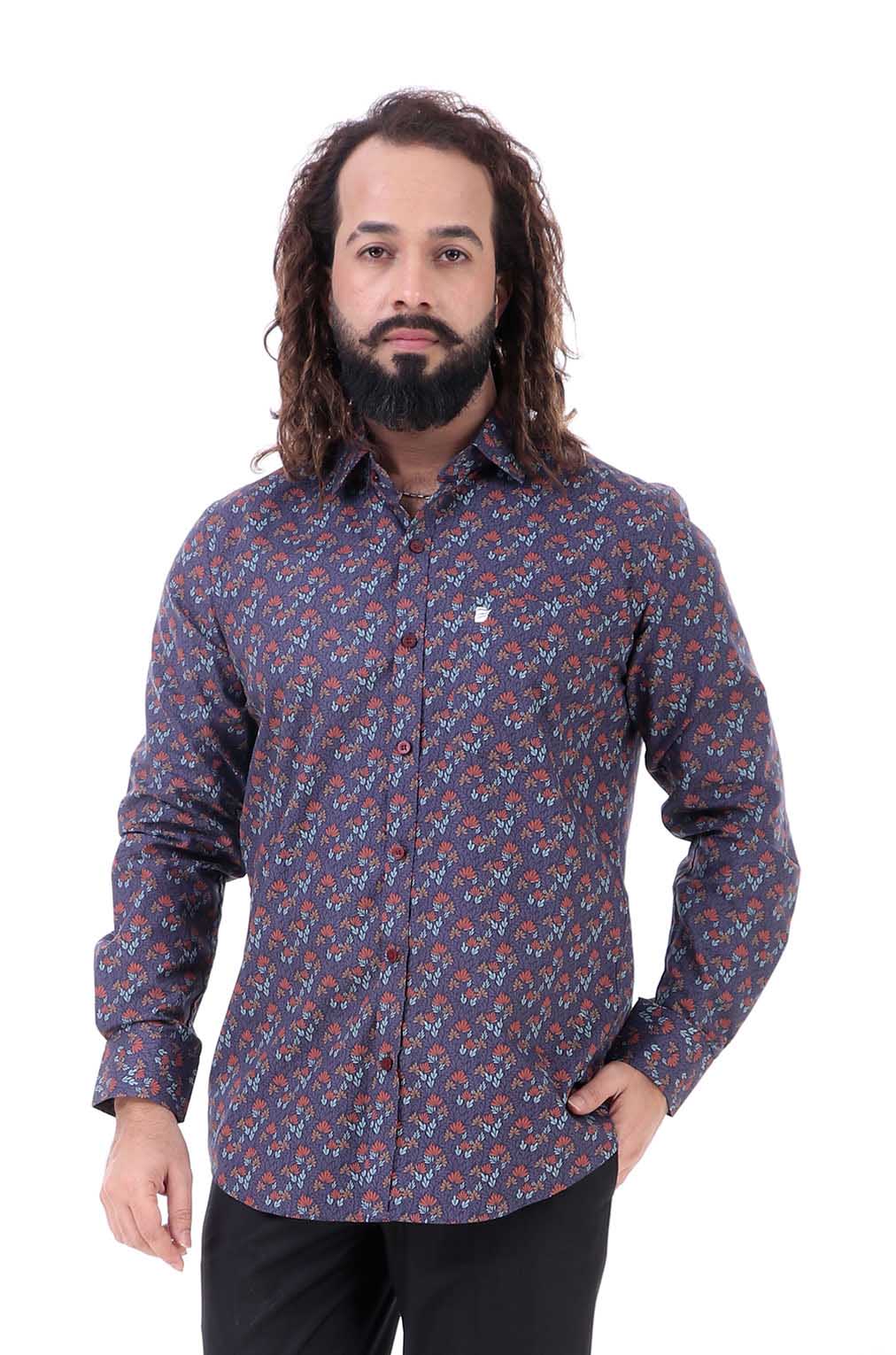 Dotted Purple Slim Fit Formal Shirt
Get ready to flaunt your unique style with this exquisite slim-fit printed shirt in a mesmerizing shade of purple. Meticulously tailored using premium 100% pure cotton fabrics, this slim fit formal shirt is a true testament to quality. It boasts an array of impressive features, including cuff buttons, long sleeves, and a cutaway collar, adding a touch of sophistication to your ensemble. Combine it effortlessly with your preferred trousers and complementing leather shoes to achieve an exceptional and remarkable look that will turn heads.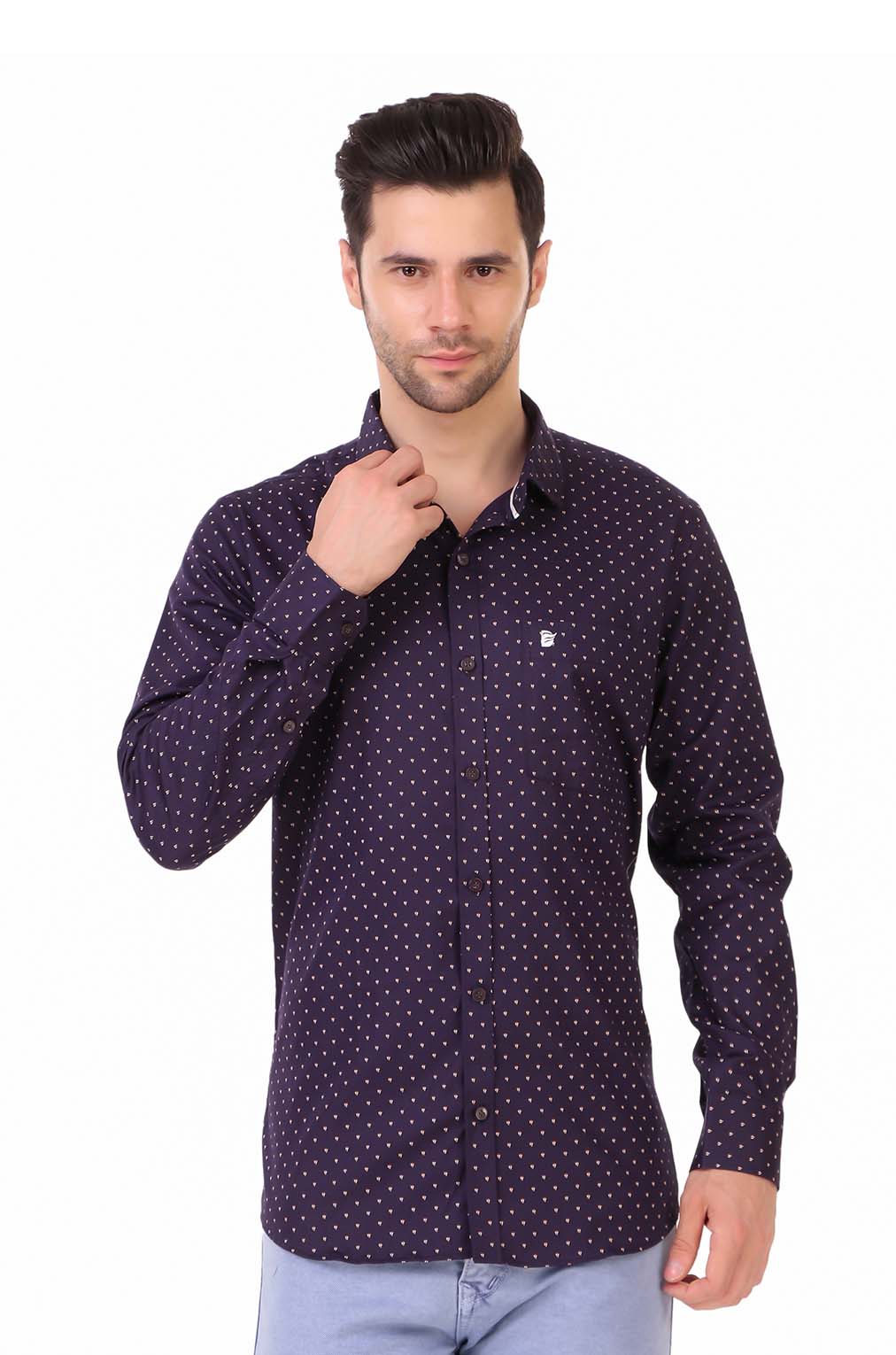 Floral Navy Blue Slim Fit Formal Shirt
Introducing a stylish option for formal events and office attire: the fashionable slim-fit formal shirt in a captivating floral navy blue design. Crafted from premium cotton fabric, this long-sleeve shirt offers a seamless combination of comfort and sophistication, enhanced by a subtle stretch. With its striking floral print, you're sure to make a statement while upholding a polished appearance. For a polished ensemble, pair this slim fit formal shirt with formal pants and complementing formal shoes to complete your ensemble.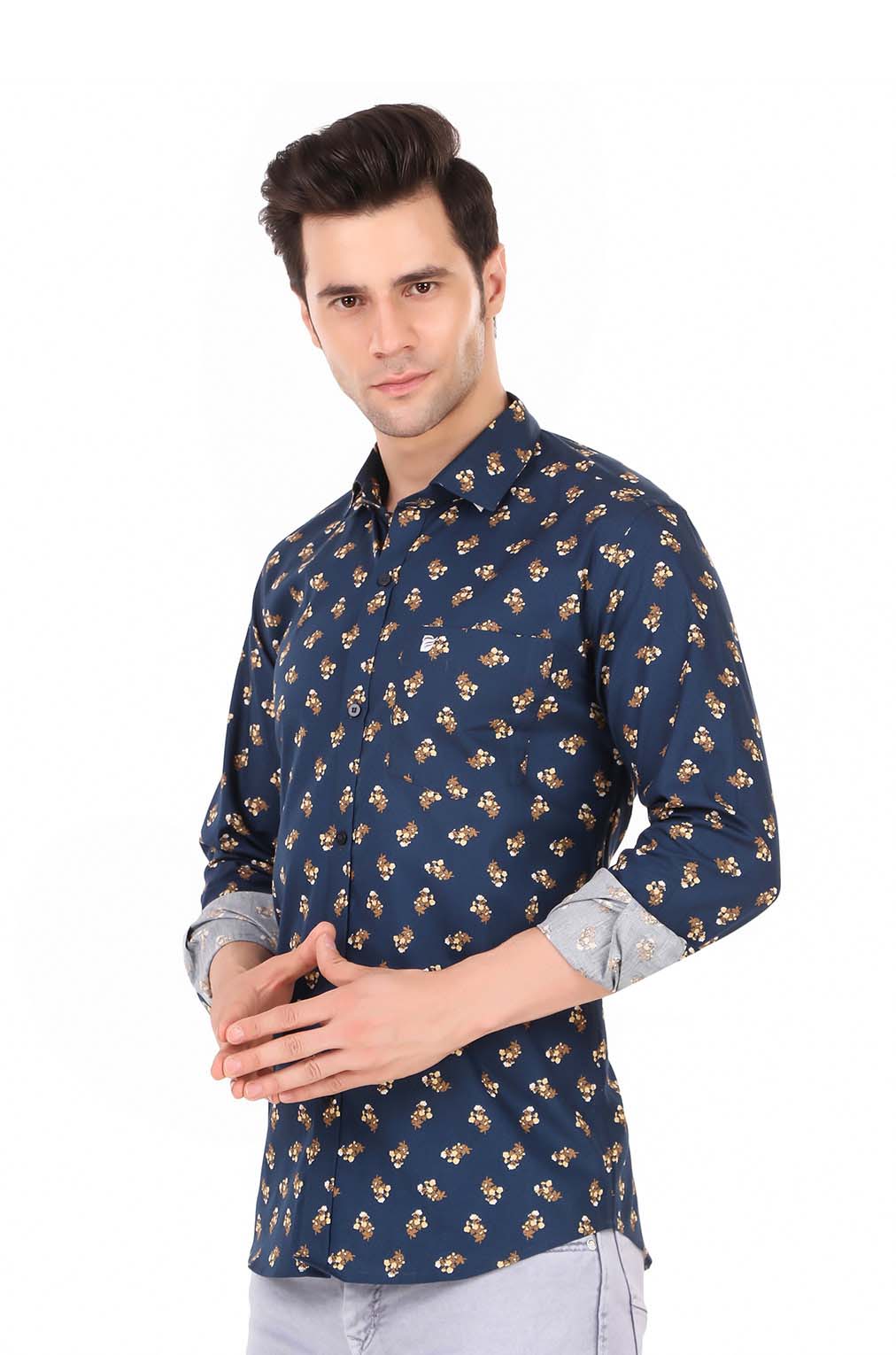 Slim fit formal shirts have become a fashion staple for men who value style, elegance, and attention to detail. Their ability to create a sleek and suave look, flattering fit for all body types, versatility, and focus on craftsmanship make them an excellent choice for any gentleman's wardrobe. By incorporating these shirts into your outfit rotation and paying attention to the details, you can confidently step out in style for any occasion, leaving a lasting impression of sophistication and class.
Shop for sleek and stylish slim-fit formal shirts at Daisy Fashion and elevate your professional wardrobe. With their impeccable tailoring and contemporary designs, these shirts are perfect for making a sharp impression in any business setting.